Your iPhone should be dressed as well as you. In the future, there will be a runway for tech fashion (Lol. I joke.) So here I compiled a list of my favourite iPhone cases. Note: the list goes from boring cases - fun cases, so read on!
Barely There

This is for the days you want your iPhone to be practically but you still want to protect it. No one will be able to tell where this case is from; you can get one for less than a dollar on eBay.

Practicality
Your iPhone should be able to keep up with you throughout your busy day. This is what battery cases/extra batteries are for. After reading reviews of popular charging cases on the market, I found that Boostcase had the best lifespan and they also have the most aesthetically appealing cases amongst other brands. On full charge (and healthy battery life), the case can charge your phone up to 80% of its battery.
If you don't want to commit yourself to always outfitting your phone in a battery case, another alternative that still does the trick is a portable charger.
This is easy to throw in your bag and have it ready for whenever you need it - you just plug your USB into this thing and it charges your phone. The Duracell one isn't that pretty but it's does the trick - mine usually lasts for two full iPhones charges before I have to recharge the device.
Logos
Self explanatory but same reason why you would use a case with some form of branding on it is likely the same reason why you would wear a purse with a monogram on it or a t-shirt or a sweater with the designer's name in block letters across your chest. Here are two of my favourites from Kenzo and Moschino
Active
The Nike Armband case gives off the impression that you work out and you know what you're doing at the gym.
Metallics
Who doesn't love anything that shines? Within reason though... You don't want to have your phone look like it has been bedazzled by a 12 year old pre-teen. Marc by Marc Jacobs [foil] and [faceted] nails it with metallic/shiny cases.
Moschino is a huge player in this section. Their crazy designs vary from a teddy bear with the it's arms and legs spreading off the phone to "fries" (think McDonalds but the Golden Arches aka "M" stands for Moschino) to a
camera
with a strap.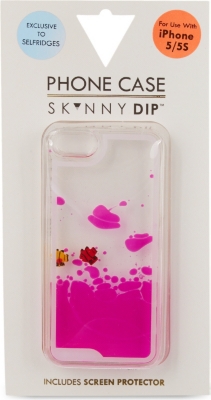 I also love this one by SKINNY DIP. This caught my eye as I was quickly walking by their stand in Selfridges.
These PureGear maze iPhone cases are a good distraction from whatever else you should be doing.